VLC media player 1.0.0 – Goldeneye is out !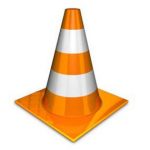 In the good tradition of Open Source projects VideoLAN has been at a version < 1.0 for ages. Traditionally 1.0 would be a complete, stable release. Well VideoLAN is there. Actually has been there for some time, I use it constantly and besides an uglier than usual interface has been stable and useful for me.
For those of you who don't know VideoLAN is a full featured Media Player for Windows, Linux, OSX and many more operating systems. VLC 1.0.0 has support for live recording, new HD codecs (including Blu-ray and AES3), new formats, new encoders, and many other new features.
From it's website:
Free, Open Source and cross-platform
Independant of systems codecs to support most video types
Live recording
Instant pausing and Frame-by-Frame support
Finer speed controls
New HD codecs (AES3, Dolby Digital Plus, TrueHD, Blu-Ray Linear PCM, Real Video 3.0 and 4.0, …)
New formats (Raw Dirac, M2TS, …) and major improvements in many formats…
New Dirac encoder and MP3 fixed-point encoder
Video scaling in fullscreen
RTSP Trickplay support
Zipped file playback
Customizable toolbars
Easier encoding GUI in Qt interface
Better integration in Gtk environments
MTP devices on linux
AirTunes streaming
New skin for the skins2 interface
What are you waiting? Grab yours here.
The cross-platform open-source multimedia framework, player and server
VLC media player is a highly portable multimedia player and multimedia framework capable of reading most audio and video formats (MPEG-2, MPEG-4, H.264, DivX, MPEG-1, mp3, ogg, aac …) as well as DVDs, Audio CDs VCDs, and various streaming protocols. See the full features list.
It can also be used as a media converter or a server to stream in unicast or multicast in IPv4 or IPv6 on networks.